It's been awhile people! How do you do? I know it's some time since my last post. Much has happened since last summer and the blog seemed to fall down to the very bottom of my list. Strange since I am living in New York now and bombarded with potential images every day. But that's just life I suppose! The reason I write today is because I saw something that stuck out like a sore thumb while I...
3 tags
Watch
Eat, dance, snap photos, shop, gallery browse, eat again and shop again are what most of my Paris visits are all about. Getting lost in the streets and finding a new vintage shop is a highlight. So if you haven't heard of Public Romance before make sure to check out the shop and it's vivacious owner; Maryama! music by Nouvelle Vague : Too drunk to Fuck
3 tags
Maryama's Public Romance
2 tags
A Ladies favorite never goes out of style.
2 tags
ya like dawgs?.... apparently I do when they come...
I'm liken these Vans for men….
4 tags
architects love some Chalayn
I met Shirin at the Hussein Chalayn exhibit who is also an architect…wadda ya know! I could not stop starring at her cool outfit by German designer Bernhardt Willhelm, whose work I can't get enough of now. Graphic in print but also in form…check him out if you've haven't already : Bernhardt Willhelm. Turkish pop singer Sertab Erener for the Hussein Chalayn...
4 tags
Watch
HUSSEIN CHALAYAN @ THE MUSEE DES ARTS DECORATIFS' Fashion exhibits are popping up all over the place these days, don't you think? The more the better I say….as long as they really have something to say. As you also know Hussein Chalayan has something say. Before I even walked in I was so excited to see a retrospective of his work. It was such a refreshing portfolio to see one...
2 tags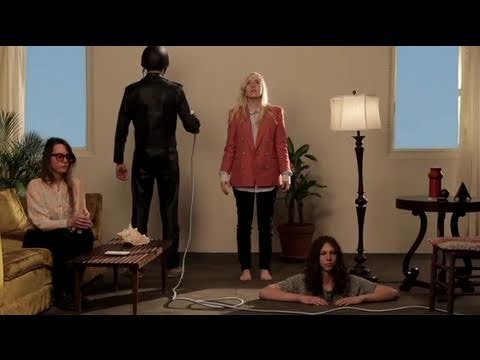 4 tags
GUESS WHO I SAW @ COLETTE?
Forget star-sighting's in Paris it is now the age of the blogger-sighting. I bumped into Paris based stylist Kristina Gisors the lady behind Your Private Shopper . In what was probably one the busiest days at Colette I spotted her and had to get shot.  nice smile lady! I keep seeing these shiny high-top everywhere lately… 
3 tags
4 tags
brits injecting fun in fashion back into france
One of these days I'm going to buy myself a Kokon To Zai piece. I swoon when I see the shop, their newest patterns and cuts, and of course the neon!! I think their clothes would create the same feeling of heading out to a night of dancing…but during the day.  KTZ is a collaboration between Koji Maruyama, Sasko Bezovski and Marjan Pejoski. Each having a different background in design...
2 tags
A NEW SHADE OF WHITE FOR THE YOHJI YAMAMOTO STORE
I was so excited to see the shop but they closed it for a paint job…boo, but isn't this lady awesome?…ah yea
2 tags
you would be this happy too...
If your day was spent at the shops of Palais Royal.
2 tags
the ladies of rick owens
Strolling down the corridor of Palais Royal and scooping out the lux's fashion boutiques I really appreciated how non-chalant and relaxed the sales ladies of Rick Owens were. This little park holds some of the greatest fashion houses in the world and each one comes with their own larger than life character, and it was kinda cool to meet the different women that personify the different brands...
3 tags
Paris via London via LA?
I've said it before and I'll say it again, one of the reasons I keep up with my blog is because it allows me to meet some of the most interesting people around. Everyone has a story of course and the stories are even better when your well dressed.  In Paris I met Wayne whose originally from London where he worked for Topshop (I can hear your excitement!) then relocated to Paris to...
2 tags
From Portugal to Paris
You'll recognize this babies from a pervious post I did in Sao Paulo….drum roll please…and now I have my very own. I didn't think I would go for nude but I think its the best one to start off my colour collection. So naturally I had to wear them in Paris. Stay tuned for some great Perfect Pairings from Paris. Melissa shoes by Gaetano Pesce
4 tags
marc will light the way
After a long day of site seeing, map way finding, and walking in circles trying to find the library where apparently Harry Potter was written in. Some how the fashion Gods pierced through the grey clouds and from the bottom of a sloping street I saw the words marc by marc jacobs appear behind the shadows of a leafy green tree. Over joyed I ran up and immediately the language barrier had no...
3 tags
Out of class and off to the 'bech'
I'm finally done my Masters! After such a tense time I went on a much needed vacation…with my sister. A vacation that quickly became more of an educational experience and an attempt at bonding with my sister, turned out pretty well. Check out some snaps from Lisbon + Porto. port wines of porto oma's casa da musica da bech our cabana boy. muito obrigada ma...
4 tags
The Colomina impact
Beatriz is defiantly one of my favourite professors. The director of graduate studies at Princeton University's School of Architecture and visiting theory professor at the stadel…and the list continues with architectural historian, established writer,  all while carrying major clout in the architecture world. The three times a year we see her I look forward to her outfits. I almost...
2 tags
I FEEL YOU!
Kjersti Gjestrud and I (an artist at the Stadel) got to talking about how we miss our wardrobes and especially our shoes, since we both come from different parts of the world. When going to school in totally differently place and knowing it's probably temporary you have to pick and choose your favorite pieces to take the trek with you. I think it gets to me the most in the summer when...
5 tags
rundgang 2011
I go to an art school… and every year the school puts on a show where students have the opportunity to exhibit their work to the public, curators, and buyers. For such contemporary program it's a big deal. We also, open and close with massive all day parties. Those are the times I will miss living in Germany.   So here are some photos from the event + some of my favorite pieces. ...
3 tags
Watch
Keep it funky
2 tags
In her Nude's
I think Chloe and I share the same love for shoes. Keep it original + funky but comfortable enough to strut without thinking about them. I bought a pair of sandals from United Nude that day but, my second pair of nudes will definitely be the hardware heel. **I don't understand how architectural designs and shoes can run through one family. I've written about United Nude in the past so...
3 tags
perfect pairing of the month!
I think I'm going to have to change the title to Perfect Pairing of the Year to Bi-annual since I'm really bad with updating it every month…but then again, then again let's just go with it. This month I present you with an "you're all grown up lady!" apartment. It's pretty awesome to meet up with friends you haven't seen for so long and and...
6 tags
Perfect Pairing of the month!
Jessica Pearson's fab shoes. on the floorVintage FerragamoPurchased at BEACONS CLOSET  Karim High Heel MELISSA  on the Karim Rashid Poly chair Bargain Basement shoes for $20Purchased at RAINBOW 
3 tags
bomdiaeboanoite-deactivated2012 asked: I can not control myself, I will be on a reblogging paradise tonight with all the amazing goodies you have posted.
Obrigada.
3 tags
5 tags
CIRCLE PACKING SHOES
When I first spotted Hena Lee (jewelry designer from Sao Paulo) I was more jealous/envious than excited for a photo. Her Melissa's by architect Gaetano Pesce is number one on my Melissa shoe must have list.  The best part is that you can change the shoe by cutting out the circles - Ah I must have them!
3 tags
We were lucky enough to see a rehearsal of the infamous contemporary Brazilian dance company ; Grupo Corpo. It was really a beautiful performance and one I very much recommend anyone to see. Check out their tour dates.  GRUPO CORPO
4 tags
SHOPPING FOR SHOES IS AN ART
I AM PROUD TO SAY I FINALLY MADE IT TO THE LAND OF VANILLA RUBBER! Seeing the Melissa store was a must on my Brasil trip. So make sure it's on yours when you visit Sao Paulo. Galeria Melissa, is their flagship store where the exterior facade and interior are redesigned every three months.  This collaboration was obviously with Post it! What a smart and simple way to produce an exciting...
4 tags
ADRIANA VAREJAO BY RODRIGO CERVINO LOPEZ 
2 tags
snezana and her ruby reds
I love the vibrant colour of these beauties! Just gets me excited for spring/summer.
2 tags
Galeria Leme
GALERIA LEME
2 tags
CUTE/FRESH/RIO
3 tags
4 tags
It was really strange walking through one of the many favela's in Sao Paulo, observing and analyzing how the lower class live in the city. xIt's really a strange complex, where before entering your filled with images of very poor people and make shift houses where in fact at times this specific favela felt almost suburban. With paved out roads and families with cars they were just...
3 tags
ART IN INHOTIM
4 tags
Set in what is probably the strangest city I have ever been to OSCAR NIEMEYER Ministry of Foreign Affaires is another pawn in the landscape of Niemeyer buildings that have been strategically planned like a game of chess. I probably will never go back to Brasilia but I have to say it was oddly captivating and if your interested in Niemeyer work that's the place to go or an interest in...
2 tags
Studying architecture in Brasilia
2 tags
ART IN PARADISE
As many of you would have guessed I fell in love with Brasil! I mean it was a demanding trip with a jam packed schedule that kept me going but with the amazing weather, the beach, food, good looking men I could see myself back there soon. I took so many photos that I'll have to post some of my favorites in the up coming week. The photo below is from the most beautiful art gallery I've...
2 tags
Oi! I'm back from Brasil!
Back in Frankfurt but not so happy that we had to leave the sun, sand and drinks behind. I can't wait to update the blog with my vaca pics and some great pairings - most of which provided by Melissa shoes. I mean how can you go to Sao Paulo and not buy some Melissa's!? Here is Elissa from Rio in her Jelly Mellisa's. The more shoes I saw the more I wanted to buy especially...
2 tags
LUNCH ON THE HIGH LINE
Whenever I'm back in New York I always do my best to pay a visit to the old KR crew and to my luck there's still people there I know but secretly I go just so I can Jessica. If you knew Jessica you would too! Like old times we did lunch with the team. The faces may change every year but it always feels the same, and how awesome is doing lunch on the high line? I wish it was there...
1 tag
CECILIA BRINGHELI --- made in italy
Based in Milan, designer Cecilia Beingheli's goal is to design the best hand made shoes for both men and women. Check out her website for more styles. I love the form of these slipper/moccasins. They remind me of a sophisticated version of Moroccan slipper/shoes - an ethnic looked married with a metropolitan sensibility.
3 tags
Mario's detail
I suppose as you get older your definition of what can be contrived as "cool" changes. As "they" say trends may come and go but how you make clothes work for you is the true sign of style. My friend Mario, an industrial designer has always captured this essence of cool. Since the last time I saw him (a couple of years ago) his managed to refine he's look. By way of...
1 tag
BRASIL HERE I COME!
This week I'll be traveling to Rio - Sao Paulo - Brazillia & Belo Horizonte. I can't wait! But I do have a favor from my Brazilian fans and from visitors of Brazil: It would be great to know where I can spot get fashion/shoe fashion and that doesn't necessarily mean high fashion…I need to know where to go for shoes, local designers, food and really whatever you love to...
2 tags
COME ON UNIVERSE LETS DO THIS.
Maybe you're not ready. Maybe it's not the right time. Maybe Maybe Maybe…. There's no reason for maybe just like there's no such thing as closure. I'm so ready, let's do this universe!
2 tags
SIMPLE. SIMPLY BOLD.
3 tags
RIP MS. TAYLOR
If your in the LA area I recommend you to check out LACMA's exhibition of Elizabeth in Iran. A collection of photos from her first trip to Iran in 1979 with photographer Firooz Zahedi.
2 tags
WHAT WAYS CAN TRICK THE EYE
Okay, Okay, I know, I know…like most people I say nay to socks and sandals but I wouldn't have put Houman on this site if I didn't see something interesting. The rule here is that this guy has style and knows how to bring different pieces together and get away with things because it looks good as a whole. If you look closely there's a lot you can learn about giving yourself...